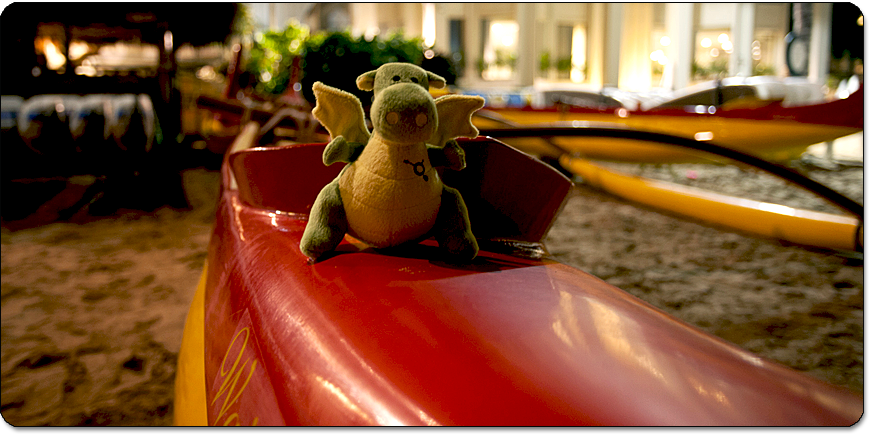 Well, it's the morning of our last day. We are busy packing right now as we get ready to head off to the show one last time. It will be sad to leave. This place is beautiful and the conference has been a huge success. Perhaps the saddest part of all is that our little dragon couldn't take the boat ride he really wanted after looking at it yesterday. You know....the fur and all, not such a great combination with the salt water. Anyways, here's to another successful day in Hawaii! Aloha!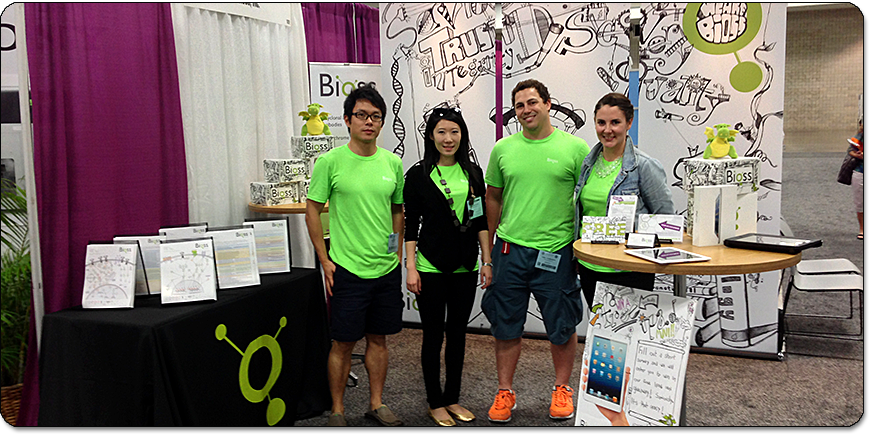 Here is one last pic of the Bioss Antibodies™ Team on our last day at Immunology 2013. We had a blast! This show was our first and it was a huge success! Thanks to everybody who stopped by our booth to talk, give us their feedback and say hello to our dragon. We will be in touch soon. This is just the beginning and Bioss Antibodies™ plans to continue its efforts to keep you connected with what we are doing and where we are going. Also, don't forget that we will be choosing the winner of the iPad mini soon. More importantly however, is the name of our mascot, the dragon. Hundreds of you entered a name and we are now beginning to pour over the options. There are some really good ones. We will let everybody know soon the results of both contests. For now though, see you soon. Aloha!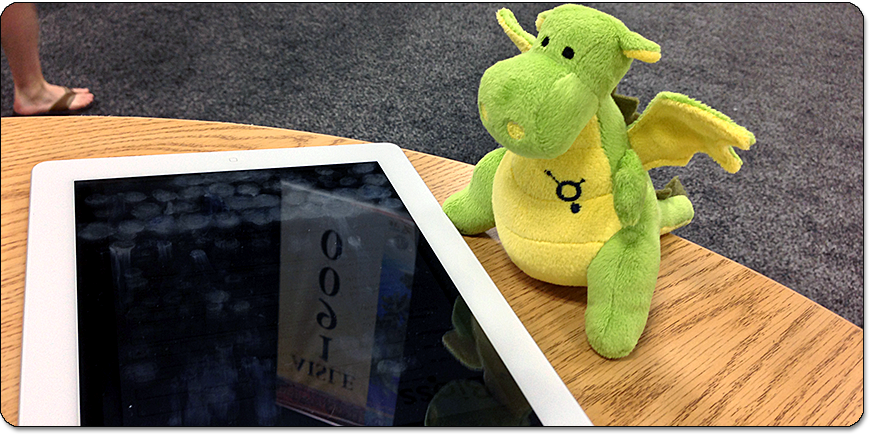 Here is dragon, beginning to look at the list of names you all have given him. I have to be honest, this will probably be very hard. Dragon looks lost in thought here.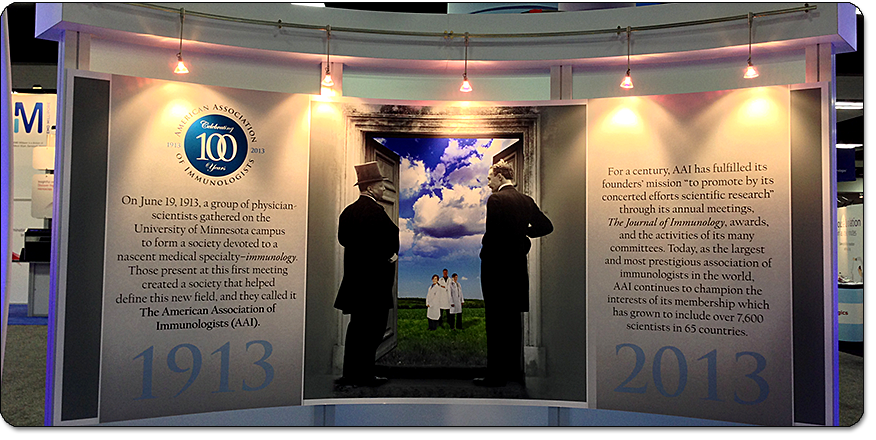 A final look at Immunology 2013, a celebration of the American Association of Immunologists 100th Anniversary.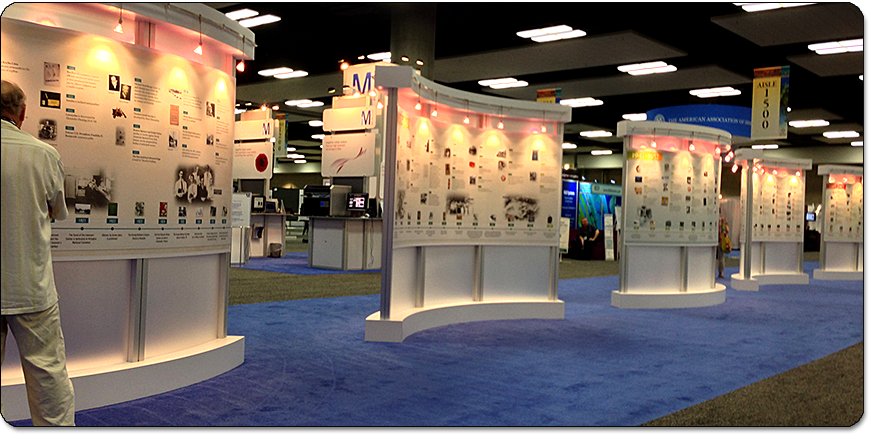 This is a small shot of the timeline that spanned throughout the conference. The timeline was a great testament to the evolution of immunology across the last ten decades.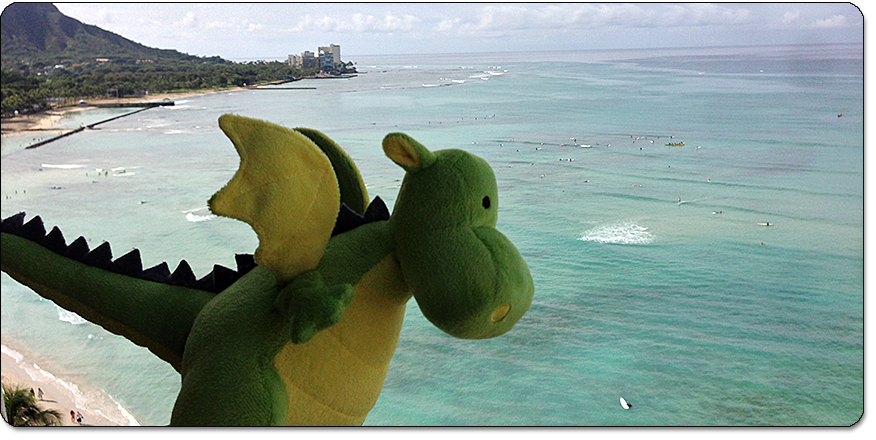 Tonight dragon will check out of his lovely hotel room. Excited to get home to Boston, but sad to leave Honolulu, Dragon takes one more flight over Waikiki with Diamond Head in the distance.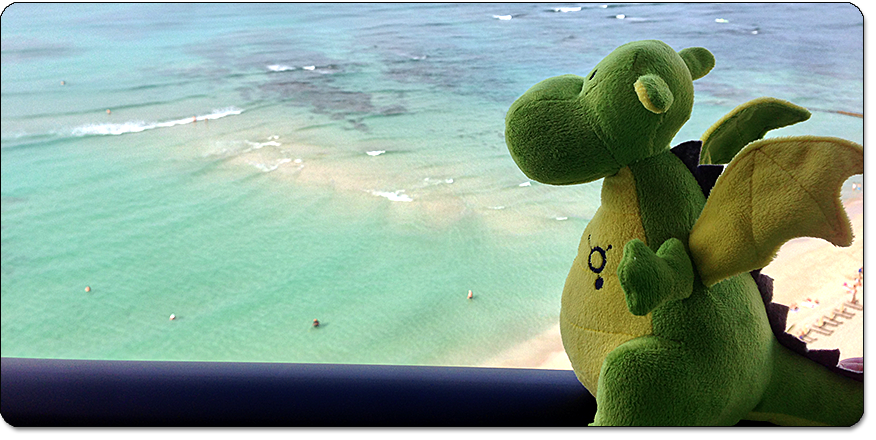 They say goodbye's are such sweet sorrows. This is so true. Dragon will be leaving with us soon. The clear blue waters, balmy weather and friendly culture here in Hawaii have capture our hearts. The conference was a huge success and really gave Dragon a boost of life with all his new friends. In the coming weeks many changes will occur, not the least of those Dragon finally having a new name, and a new home. While Immunology 2013 is at a close, the journey of Bioss and Dragon have just begun. Lost in thought and in the clear waters of Waikiki, Dragon ponders his new home. Goodbye Waikiki! Aloha!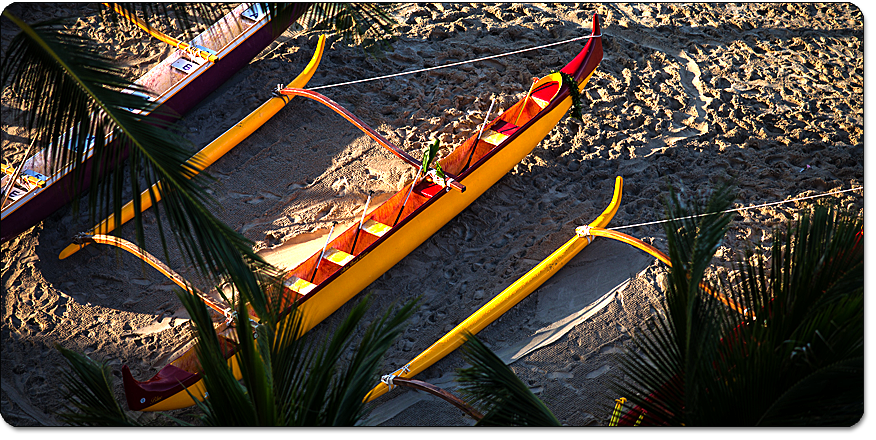 Good morning! It's day two of the conference. Here's an early morning pic of the boats directly below our window that go out to the water every morning. What a life. Well, off to the show! Stayed tuned!
So, we weren't sure how day two would go. With it being Hawaii and all, we thought the visitors may just skip out on the rest of the show and head to the beach. However, a rainy day and perhaps genuine interest promised to have our booth double its visitors from yesterday. We broke our goal for the entire show by one in the afternoon! We ran out of giveaways, but improvised. See, our dragon mascot is new and has no name. So, as part of our survey we are having a contest to name him. The winner will forever go down in history as being the person who named the Bioss dragon. Oddly enough, this proved extremely popular, more than giving away an iPad mini. People flocked to the booth and we were kept busy all day!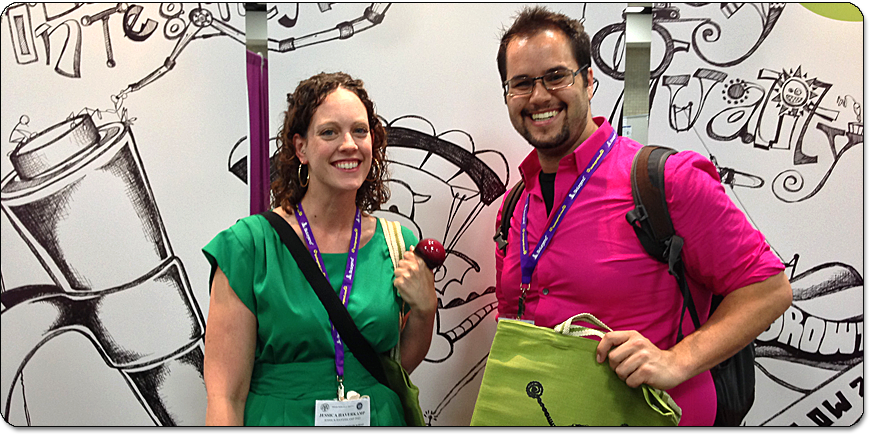 Here is a fantastic pic of these two who came just to name the dragon. They love the style, feel and personality of the Bioss Antibodies™ booth and team. We can see why, look at those great smiles and colors!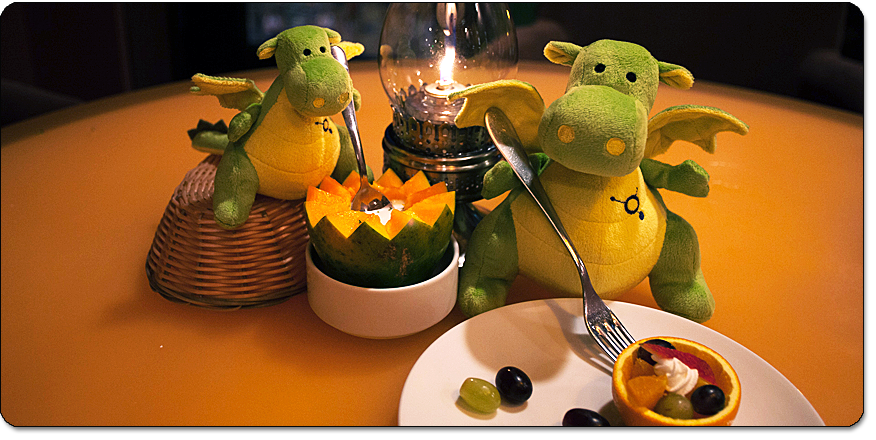 Talking, hugging and petting can become overwhelming and tiresome after six hours. But our two dragons were fantastic. We decided to really treat them tonight to a gourmet buffet. Being vegetarians, these little guys opted for papaya with cream and mixed fruit to a candle-lit setting. They really did well. Soon though, it will be just the little guy left. The big dragon will have a new home in two weeks as he is part of the reward to whoever names him. We are sure he will go to a good home though, so don't worry!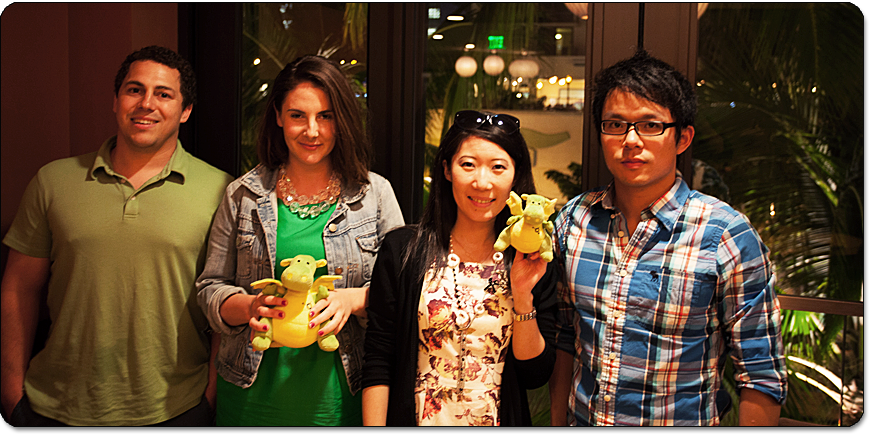 Here is the Bioss team with our dragons after day two. We all look happy, a little tanned and very full!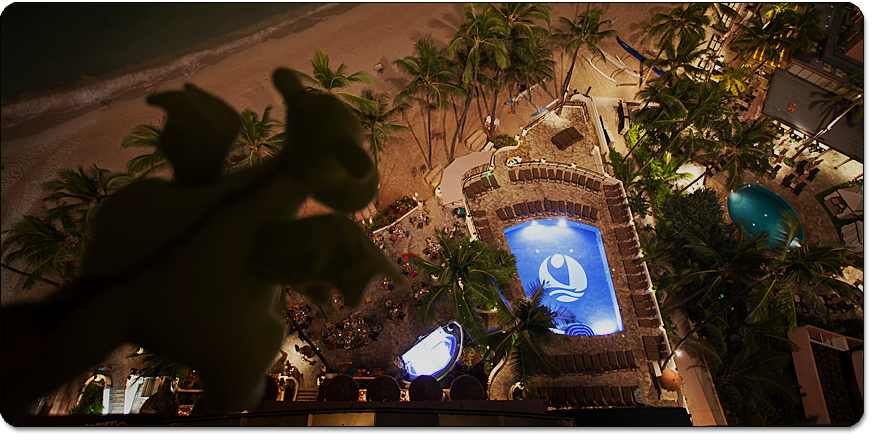 A quiet moment before heading to bed tonight for our dragon. This is his last night here in Waikiki. He enjoys looking down over the beach, the blue pool and the glowing lights of the tiki torches. He will sleep good tonight, but we still have one more day to go. Goodnight!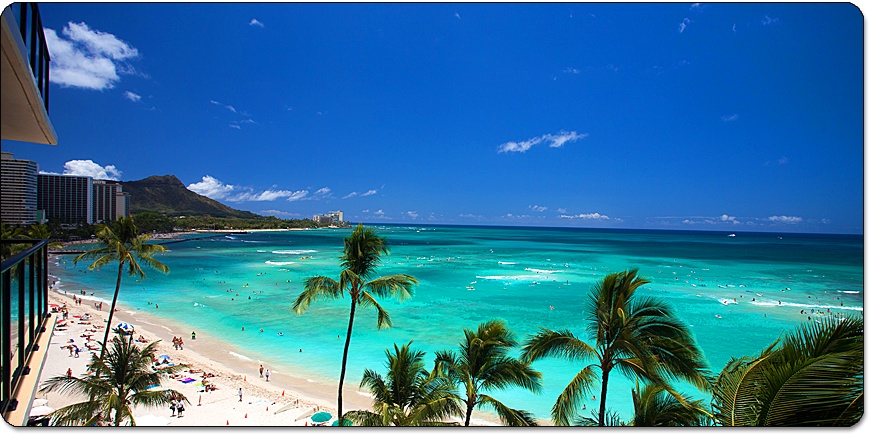 With a beautiful view of Honolulu's Waikiki Beach we awaken from our hotel room to start our day. It promises to be exiciting and fun. We can't wait to get set up! Diamondhead Park, the volcano in the distance, is the location we hiked from previously.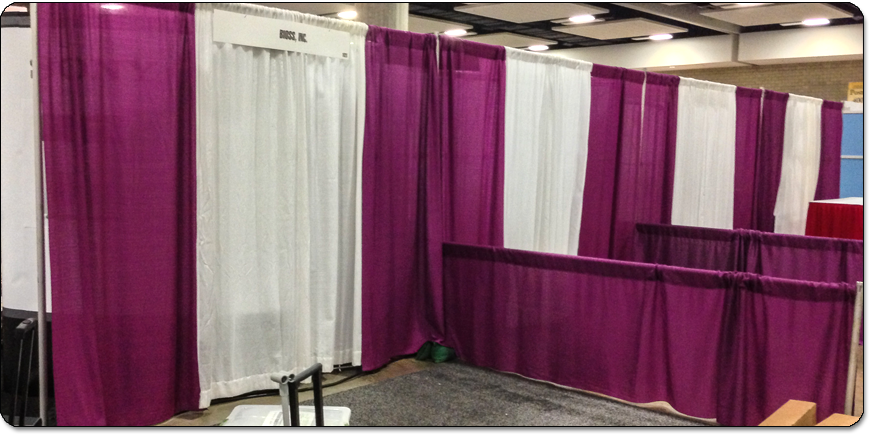 OK, so this is the booth before setup. Not very promising. However, we think that the purple will go great with our colors, especially since purple is our secondary color. So, let's see how it goes. This is our first big show and we aren't sure exactly how it will look or go.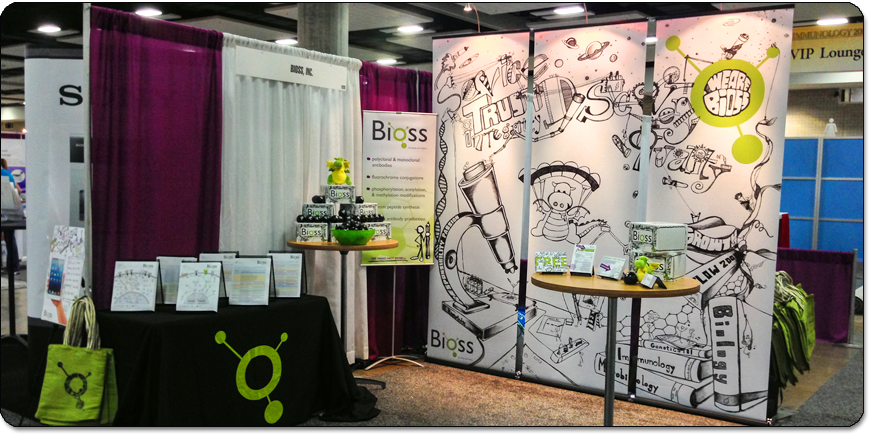 So, we expected about a 30 minute setup time. It probably took about an hour and a half because we were very careful of the small space we had. However, after all is said and done we are pretty impressed with the open feel of our booth, the marketing impact and the great color scheme! We have already received compliments on our booth and the show hasn't even started yet. We are ready!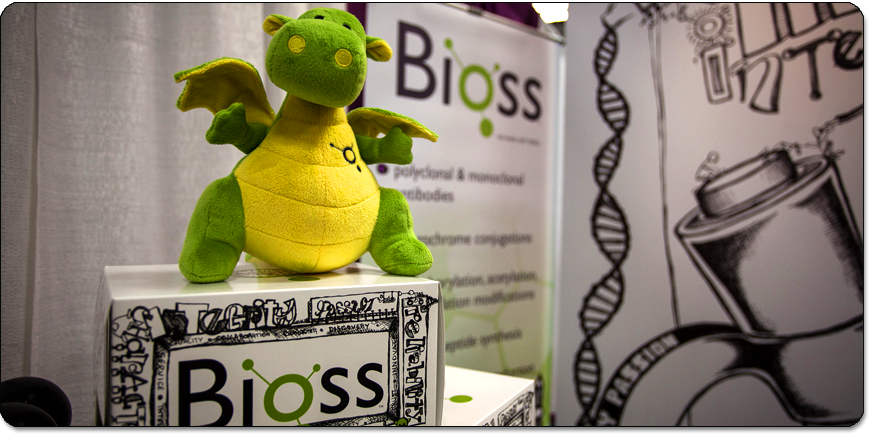 So, right at the beginning it is clear that we are not the most important aspect of our booth. Our mascot, the dragon, is clearly the guy doing the most work. He is so friendly and never says the wrong thing. This is our dragon hard at work and people love him! Soon, we will be able to give him away as a gift! Excellent work!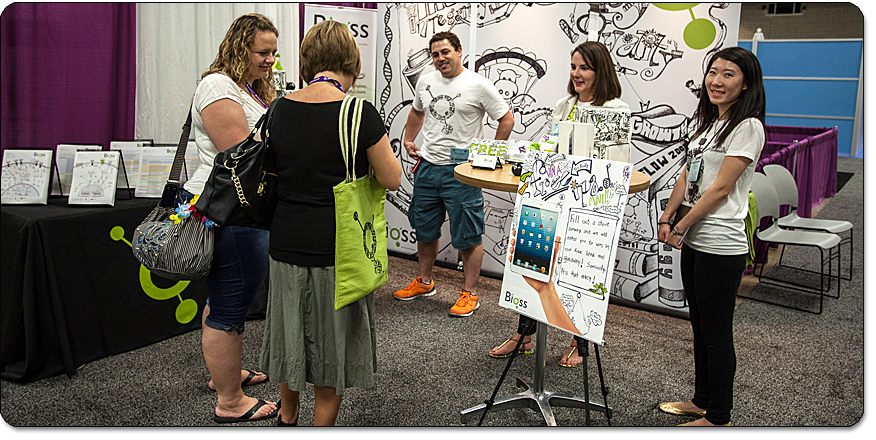 We aren't quite as adorable as the dragon, but this is our team working the booth. The open space and high tables really invite conversation and movement. People really love the beach bags and the weird balls. In fact, everything we brought with us is gone in about 4 hours. This turned out to be a very successful first day! We hoped for at least 200 contacts and leads and maybe to have all our materials gone by Monday. We met almost all of our goals in the first day. Our booth looks great and people have a very positive response to us.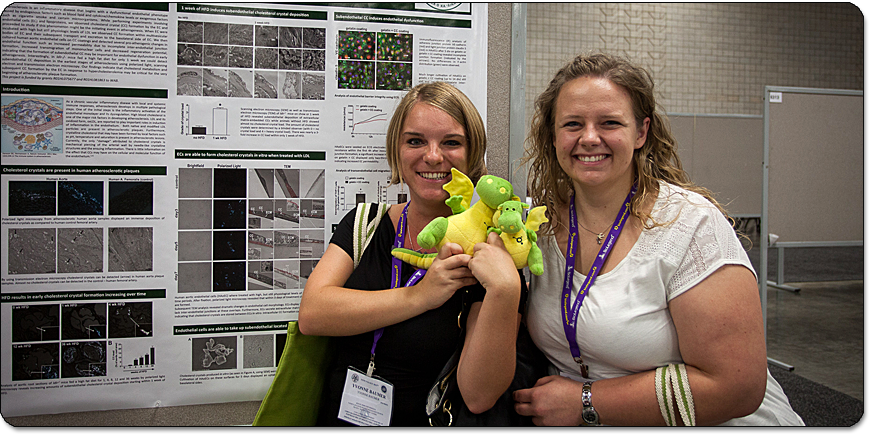 Here are two visitors who went to the conference with posters. They loved our dragon and booth so much that they wanted to take their photo with him. He is very popular. So, we decided to create a contest for visitors to name the dragon. At the end of the show we will choose a name that will forever become a part of our friendly mascot. Stay tuned to find out! PS. It was very difficult to get our dragons back after this pic!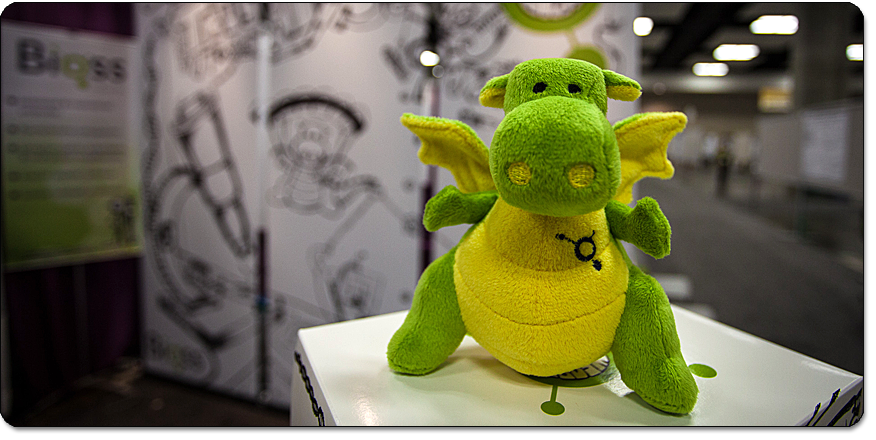 Well, it is the end of the first day. We are all a little tired, but very excited at the outcome of the show. The hardest working member of our team gave us the best results. Here he is, a little sleepy, but looks great. We will take him out to celebrate tonight.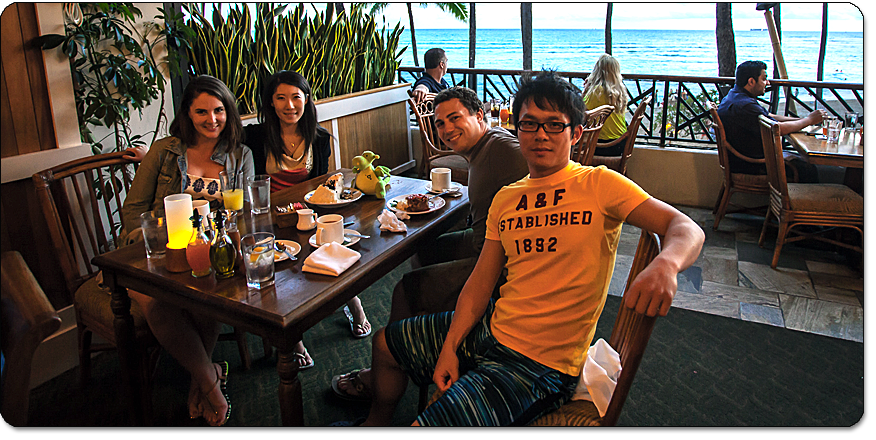 This is the team relaxing after a long day at The Hulu Grill on Waikiki Beach. Fantastic food!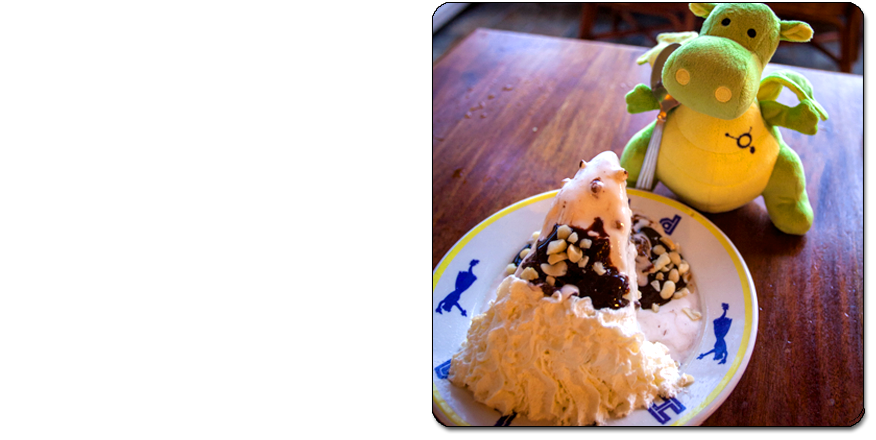 Our dragon passed on the main course and went right to the Hula Pie. It is a Hawaiin tradition and is made from coconut milk ice cream, oreo cookie crumble, chocolate ganache, macadamian nuts and whipped cream. It was bigger then him. Really...he can be such a pig sometimes, but he deserved it! A good night to all and talk to you soon!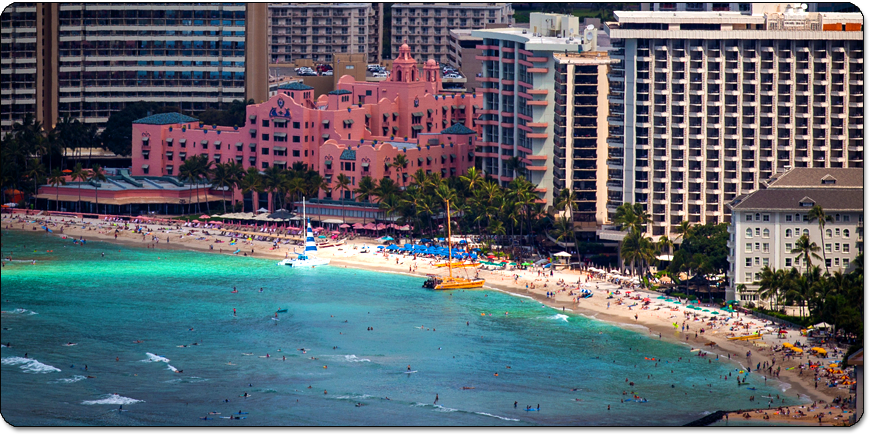 This is a shot taken from the top of Diamond Head Park. This park is the site of the volcanic crater that helped created the island. Our hotel is directly next to the pink hotel. We are on it's right. Not too shabby!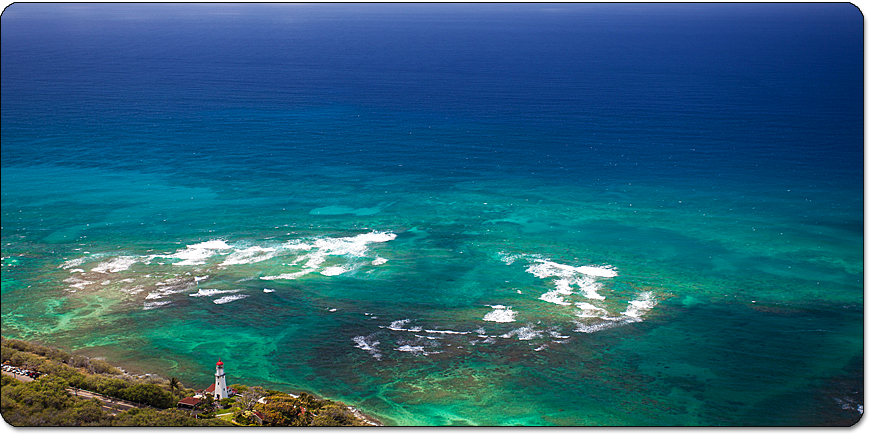 Here is another shot from the top of Diamond Head looking down onto this little lighthouse. Look at how beautiful the water is! The brownish color is the reef area under the shallow water. The reefs are actually very colorful and pinkish, but from up high the water changes the way they look at bit. This is a great area for snorkeling!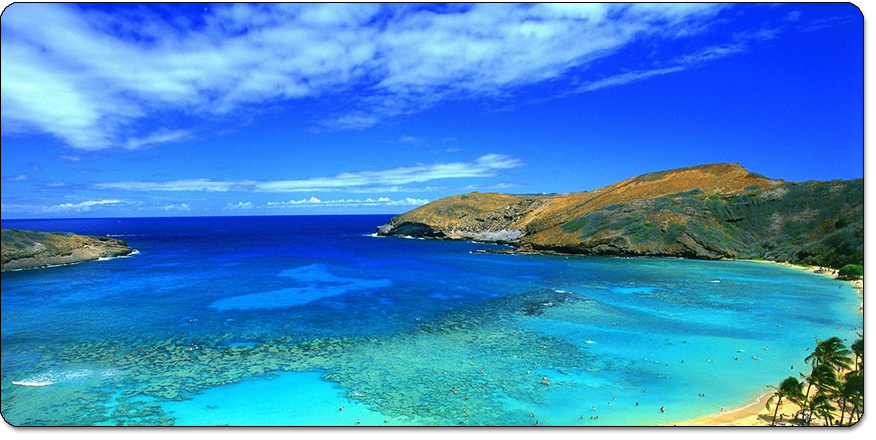 With a beautiful view of Honolulu's Hanauma Bay, we here Bioss are settling in to the 2013 Immunology Conference. Tomorrow, May 3rd, we will set up our booth and get ready for what promises to be an exciting, informational and fun show. For those of you who plan on visiting; we will see you soon! For those of you in the office, or lab, keep on pushing. We will keep you up to date on all that we do here on a daily basis. Talk to you soon!