The coronavirus juggernaut continues to travel across the globe. For now, we are relying on tools such as physical distancing to control the spread of the virus, but in the long term a COVID-19 vaccine may be our best hope for a return to normal life. Therefore, the progress of a COVID-19 vaccine is perhaps being watched the closest by the general public.
Although creating a safe vaccine for a new illness is no easy feat, rapid progress is still being made for a variety of reasons, including China's efforts to sequence the genetic material of SARS-CoV-2 and to share that information with research groups around the world. Another factor contributing to the unprecedented speed of development is the fact that other coronaviruses such as SARS and MERS, were already on the radar of health science researchers and learnings from them have been applied to defeating COVID-19. As of 12 April 2020, among COVID-19 vaccines being studied in different clinical phases, we summarized the most promising candidates and listed their essential information in Table 1.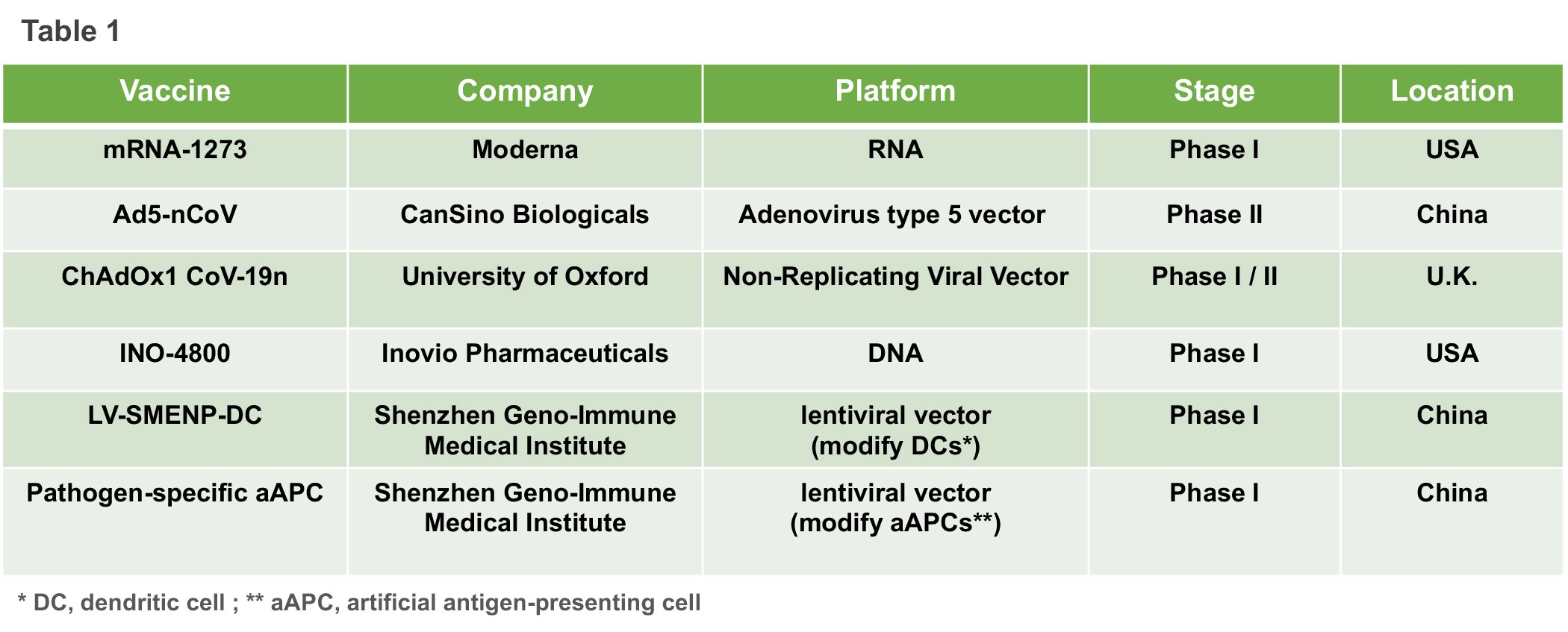 When we were preparing this summary, China has approved two more early-stage human vaccine tests for COVID-19. The experimental vaccines are being developed by a Beijing-based unit of Sinovac Biotech and by the Wuhan Institute of Biological Products, an affiliate of state-owned China National Pharmaceutical Group, state news agency Xinhua reported on Tuesday. However, more detailed technology information remains limit.
Anthony Fauci, member of the White House coronavirus task force and director of the National Institute of Allergy and Infectious Diseases, and other top U.S. health experts have previously stated that it could take researchers 18 months to create a working vaccine. Meanwhile, many health providers also concerned that, even if an effective vaccine is created shortly, it would be difficult to massively produce and apply it in a timely manner. Undoubtedly, strong international coordination and cooperation between vaccine developers, regulators, policymakers, public health bodies, and governments will be needed to ensure that promising late-stage vaccine candidates can be manufactured in sufficient quantities and equitably supplied to all affected areas, particularly low-resource regions.
-----------------------------------------------------------------------------------------
References:
1. The COVID-19 vaccine development landscape. Nat Rev Drug Discov.2020 Apr 9. doi: 10.1038/d41573-020-00073-5. [Epub ahead of print]
2. https://thehill.com/policy/international/europe/492372-top-uk-scientist-80-percent-confident-a-covid-19-vaccine-could-be